Hello all, I thought it would probably be a good idea to get this up now, considering I've just got it going and whatnot.
I agreed to buy the engine back in September 2014, and finally picked it up in January 2015 after exams. It came over on the ferry from France with Seth Goldsmith.
I got it home and began taking it apart a day or so later. It had no compression as the exhaust valve was stuck open.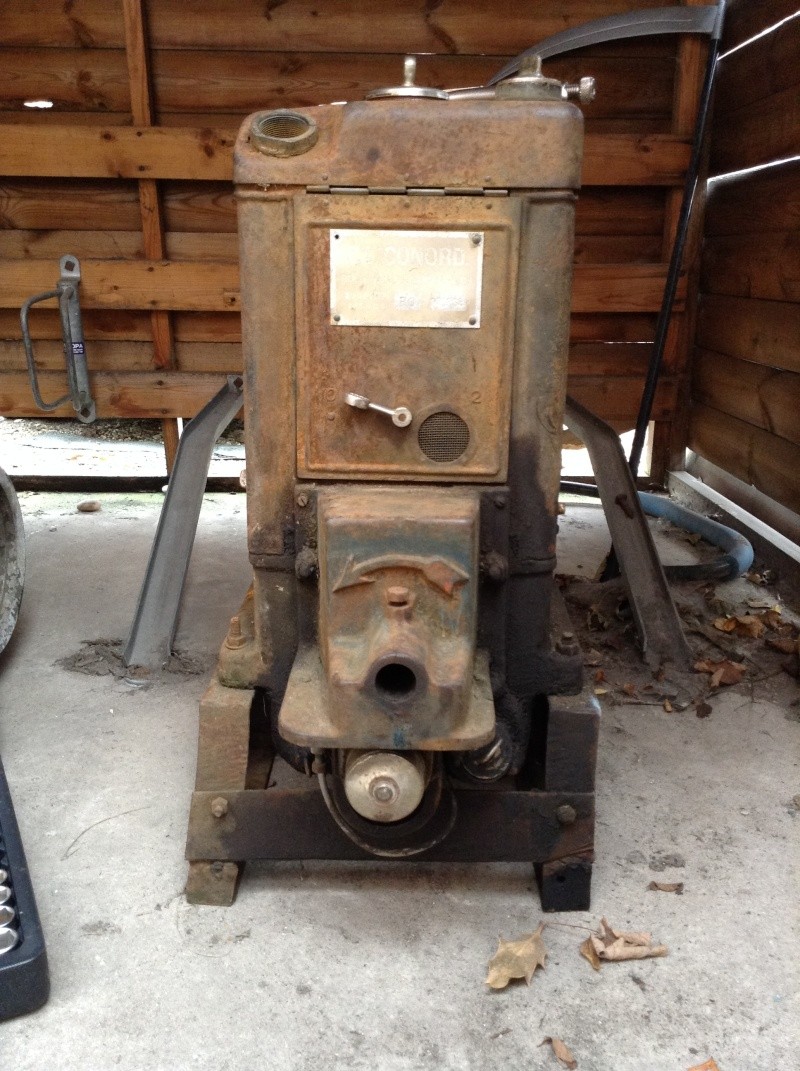 The tinwork was actually quite tricky to get off as there was an inspection cap on top that was attached to the rockers with a chain and spring. This meant I had to take the side panels off first to get a spanner in to take the nut off of one side the rockers to get the chain off. That was trickier than it sounds...
Eventually though, it was all off, and the full extent of the grime was revealed.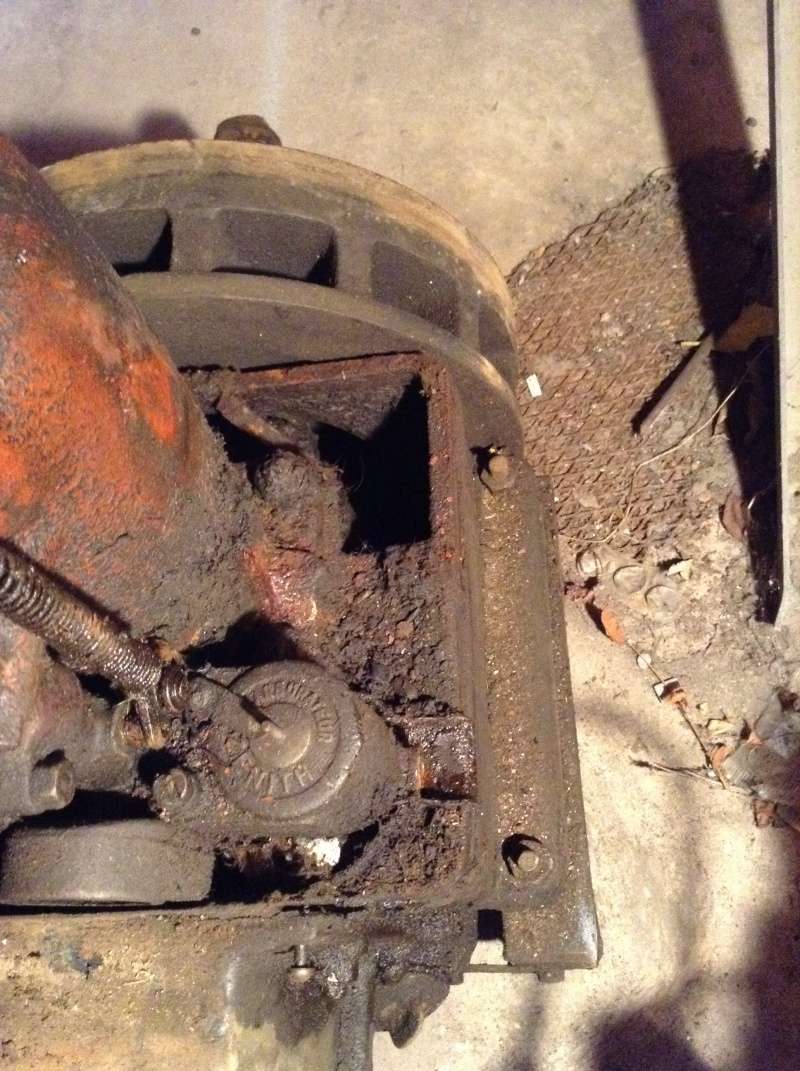 Now it was time to strip it down and clean it up. I started with the carb and inlet manifold. The head of the little brass screw inside the air filter was very damaged, and wouldn't budge. I had to use a drill with a 1mm drill bit to deepen the notch so I could get a screwdriver on it. Once that was off, I cleaned up the carb and put it back together. There was a thick layer of horrible crud in the float bowl, and all the inside surfaces were covered in what looked like limescale, so it took some cleaning with a toothbrush.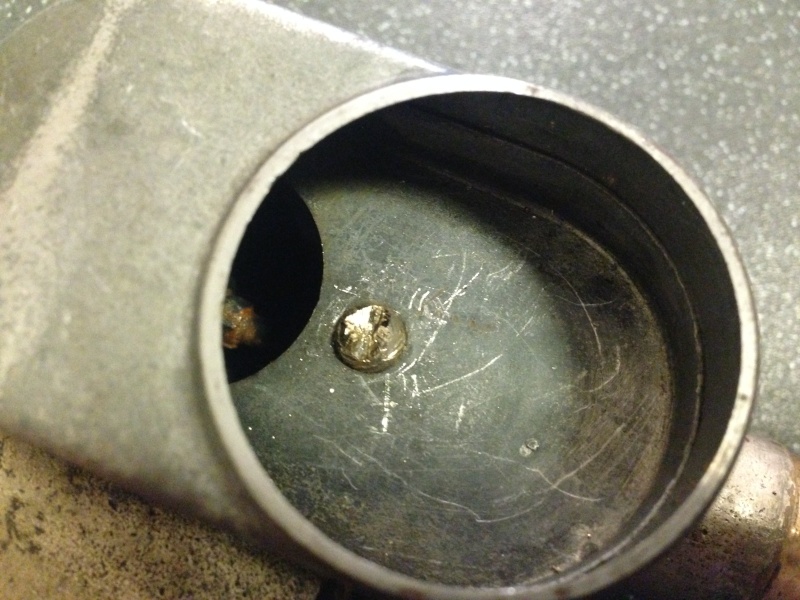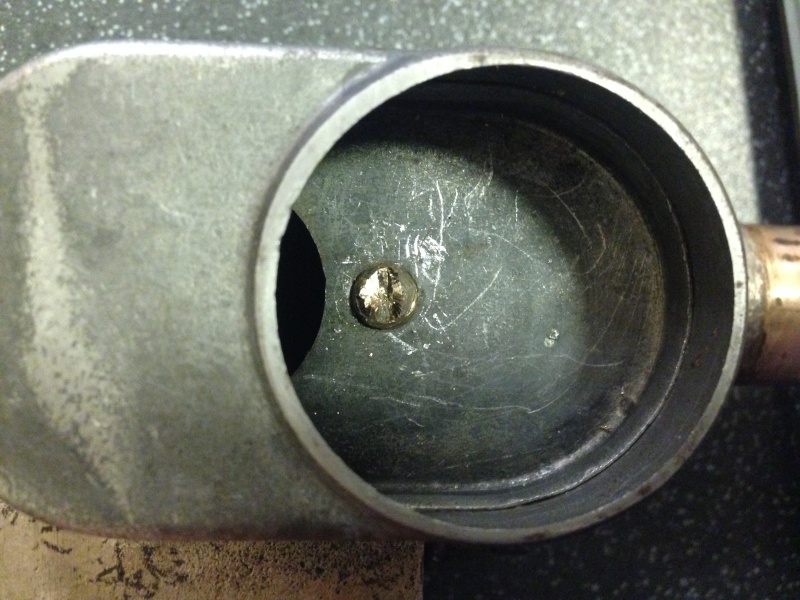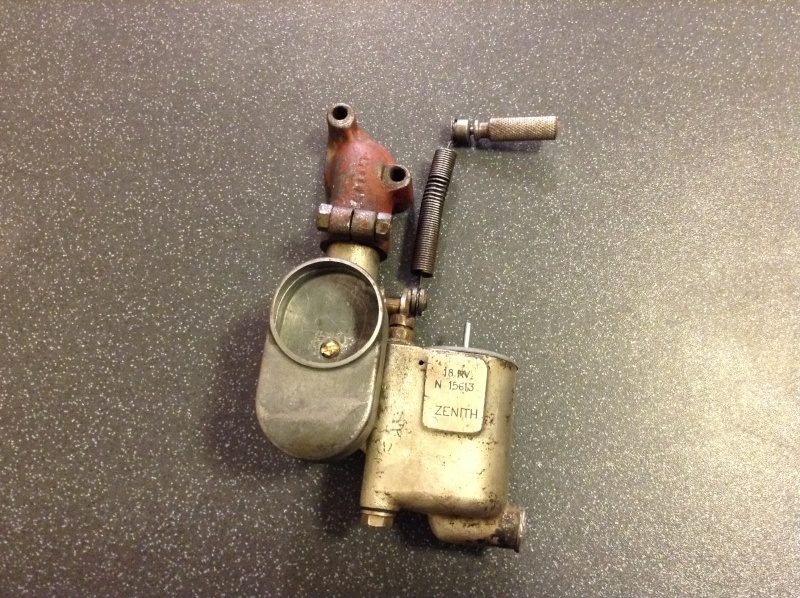 Taking the radiator off was surprisingly easy. The nuts at the bottom had snapped off long ago and the nuts at the top just snapped off as soon as I touched them with a spanner. A few 'gentle' taps of the hammer later and it was off.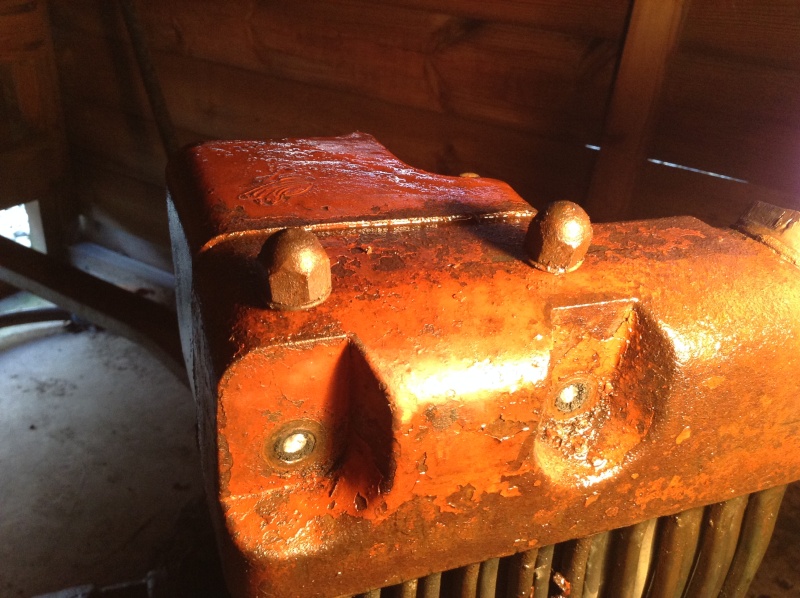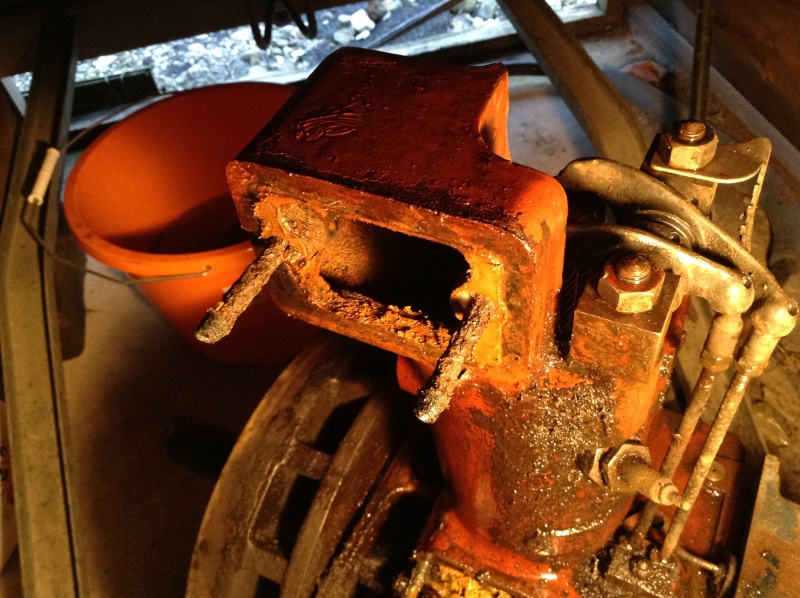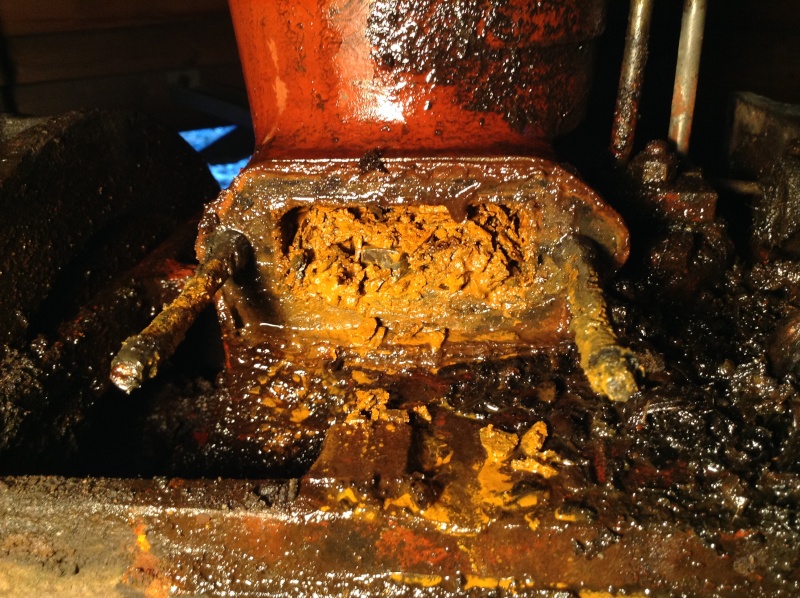 Next up, removing the cylinder. That came off very easily. I cleaned up the block in the process too as it had about 5mm of oil, hair, sticks and mud all over it. The cylinder had lots of debris still in it too, so I waited till my housemates went to bed and rinsed it all out in the kitchen sink. It made quite a mess. The studs for the radiator were very corroded and just snapped when I tried to remove them.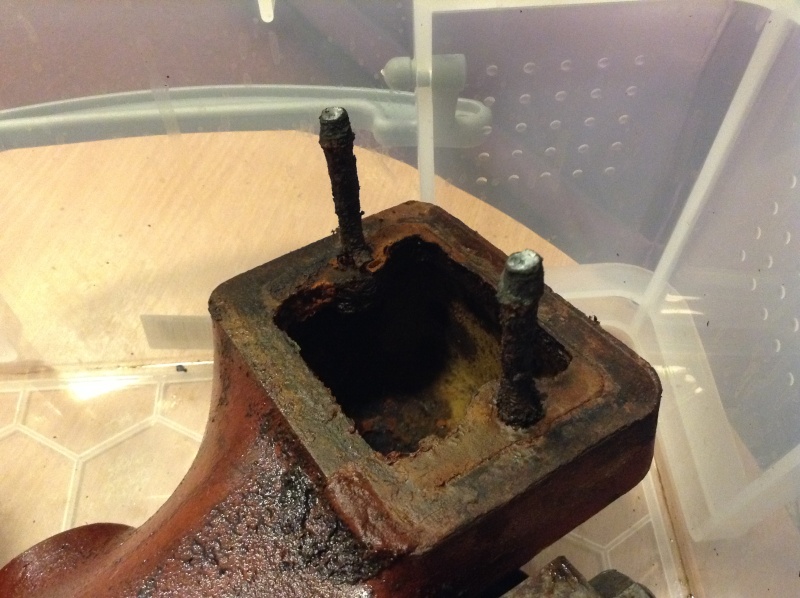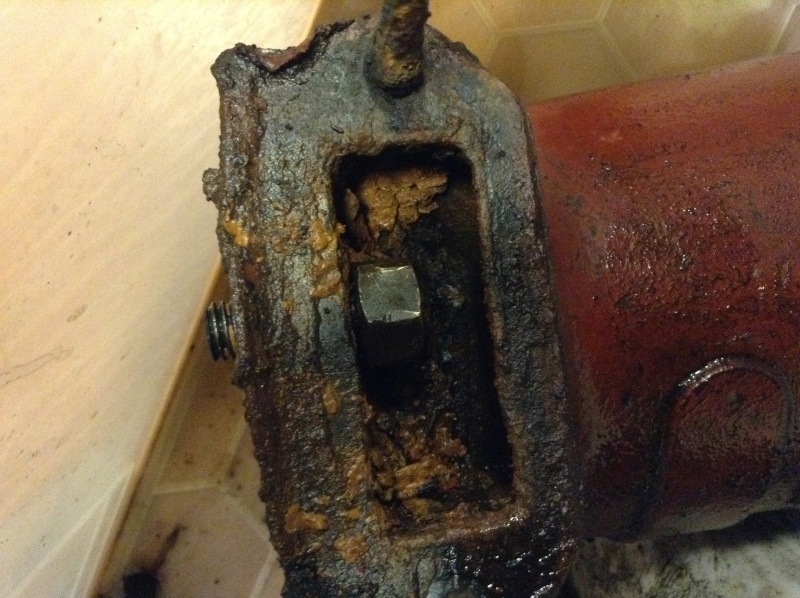 Once I had cleaned it up, I noticed a large crack in the wall of the water jacket. I wasn't quite sure what to do with it, so I just left it for the time being. The exhaust and inlet valves came out next so I could re-seat them. There was a strange yellow build up under the inlet valve, it had the consistency of the golden bit inside a crunchie bar, but a little bit softer, possibly due to the WD40 I had been using. If anyone knows what it is or why it was there, please let me know!
The radiator had to be cleaned up now. It was clogged full of rusty metal flakes and other debris. That was washed in the sink too, making sure nobody else was in the house to complain.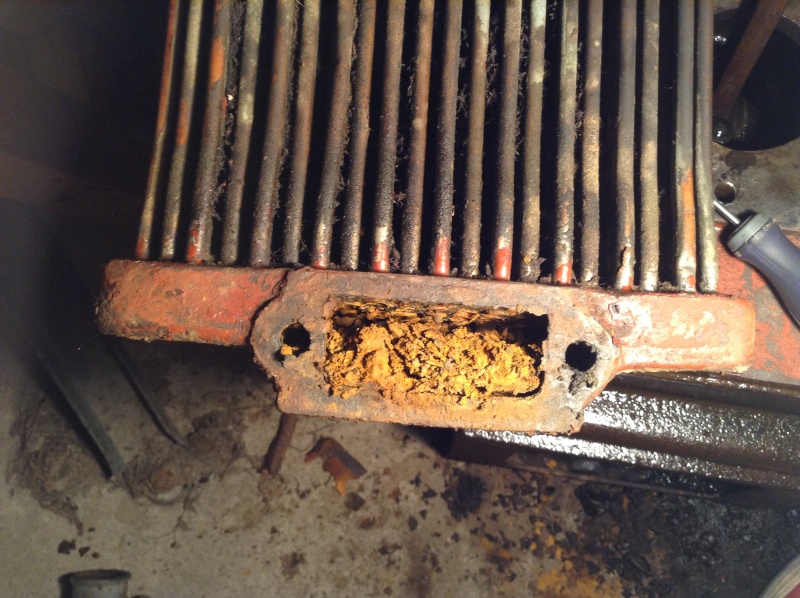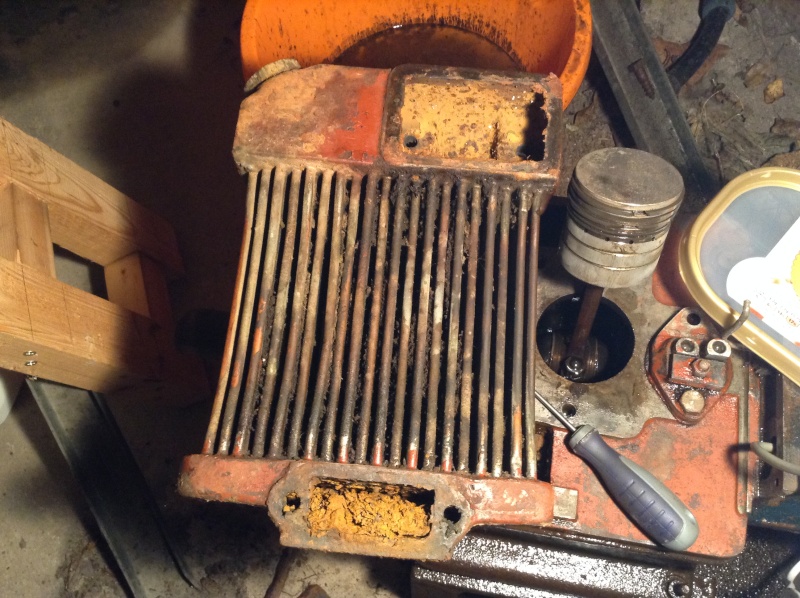 I took the cylinder to an engineering firm to get the studs removed and to ask them about the crack. It took them about a day to drill the old studs out and put 8mm helicoils in. I got something called "Super Steel" to fix the crack while I was there too. Once I got it back, I reassembled the valves and rockers and sealed the crack. I made some new gaskets for the radiator and for between the cylinder and block.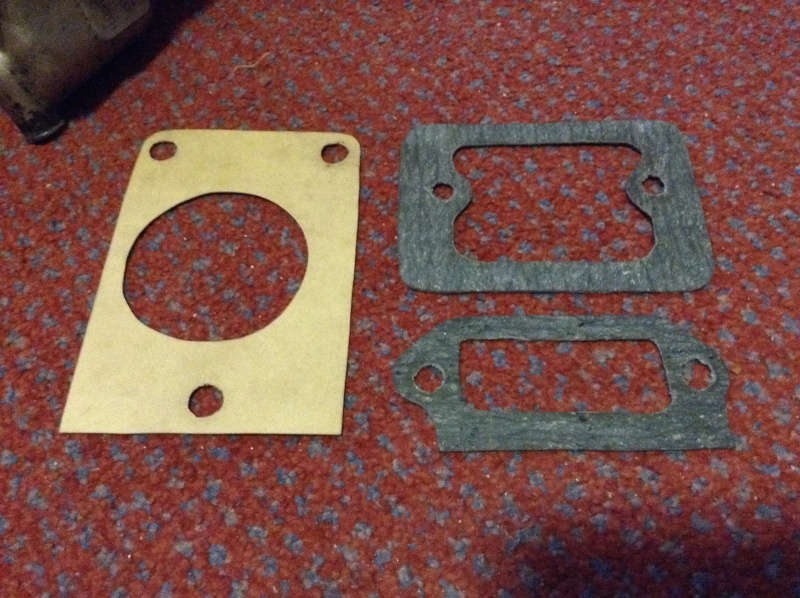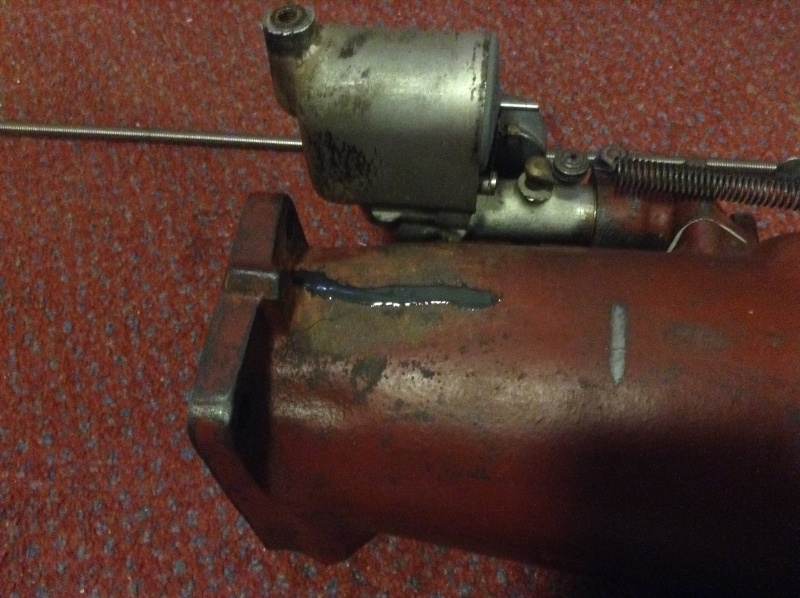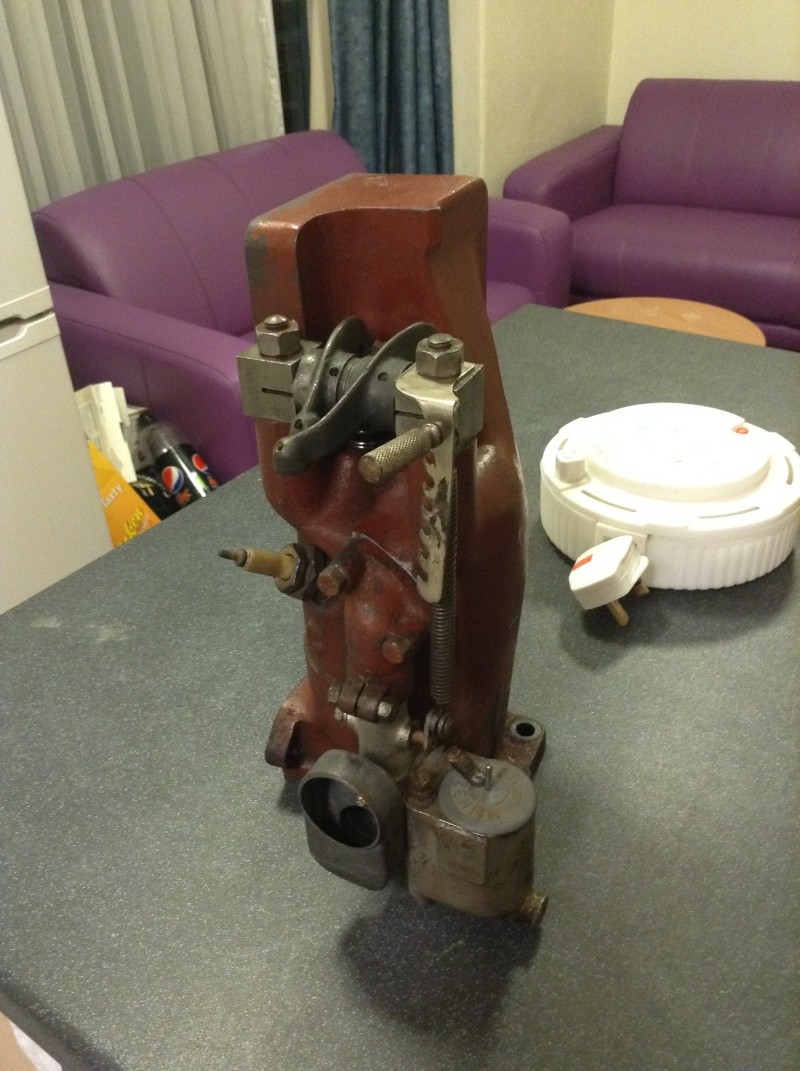 Finally, it was ready to be reassembled. It didn't take very long to put it back together. What was a pain though was getting a good seal between the radiator and the cylinder. The gaskets were leaking all over the place. I eventually just took them both off and used a heat resistant silicone based instant gasket, which seems to have worked brilliantly.
I gave it some new oil and a float bowl full of fuel and it fired up on the first crank, deafening me in the process.
I'll get a picture of the engine with the radiator on soon and maybe a video of it running, although that might have to wait till I take it back up to Newcastle in May/June.
Next up will be getting the rest of the block cleaned up, primed and painted. I still need to get a mag cover, exhaust, fuel tank cap and replacement tinwork. It's been quite difficult to find these, so if anyone knows of some up for sale, I would appreciate it if you could let me know.
I'm thinking of leaving the cylinder and top of the block as they are now with their current paint, but totally respraying the rest of the engine. The paint on the cylinder is original by the looks of it, and in fairly good condition, so it adds a bit of originality to the engine. I am aiming to go back to the original shade of blue for the outside of the engine, there is some left in places so I'll get the garage next to where my dad works to match it up like they did for my Villiers Mk 20. If anyone has any thought on my plans, please feel free to share! I'm always looking for different points of view.
Hope you enjoyed reading this!
Chris
Hi Chris,
A nice set of photos there showing your progress with the restoration,its coming on really good.
By the way - I bet your house mates just love you! bringing in a dirty oily engine and then washing bits of it in their nice clean sink!!
All the best,
Kev.

Locknut

A true Stationary engine owner





Posts

: 170


Join date

: 2013-02-20


Location

: South Devon



Thanks Kev, I've been trying to get as many photos as possible throughout the rebuild.

They haven't said anything to me about the parts in the kitchen yet, but I think they may have just been being polite :P

The kitchen has, until recently, had a strong smell of white spirit. Thankfully they didn't see me washing parts in the sink, that would have probably tipped them over the edge!
Haha, love it

think my best one was putting a piece of hardwood in the oven to dry out for a trolley, and it warped and got totally wedged between the shelf and the element so the whole oven had to come out of the wall....
_________________
Cheers, Matt
3 X Shafty Lister D's, Fowler 1PA, Wolseley WD2, Ruston PT, Bamford EG1, Conord F2, Superbloc 3hp, Hartop M, Wrekin mill, and a girt dairy setup!
PROPER JOB



Matth92

Life Member





Posts

: 694


Join date

: 2012-05-10


Location

: Sunny dorset



Nice work Chris. When I was a student in Newcastle the worst I did was put my desert boots in the washing machine - well maybe not the worst but that's another story.

_________________
Regards Paul
Tha can alus tell a Yorkshireman - but tha can't tell him much.

Woodsman

Life Member





Posts

: 584


Join date

: 2014-08-24



Haha, oh dear... I think if I did that with my parents oven, all of my engines (and possibly me) would be permanently removed from the house!

Thanks Woodsman. Our washing machine in the student house in Hull has a habit of shaking the kitchen and making the contents of the cupboards migrate out of the doors, so I think putting shoes in it would cause some bigger problems!
I'm regretting leaving the engine down in Hull now, I could have got loads done if I'd brought it back up here! I'll have three months to work on it though in the summer, so thats good!

---
Permissions in this forum:
You
cannot
reply to topics in this forum