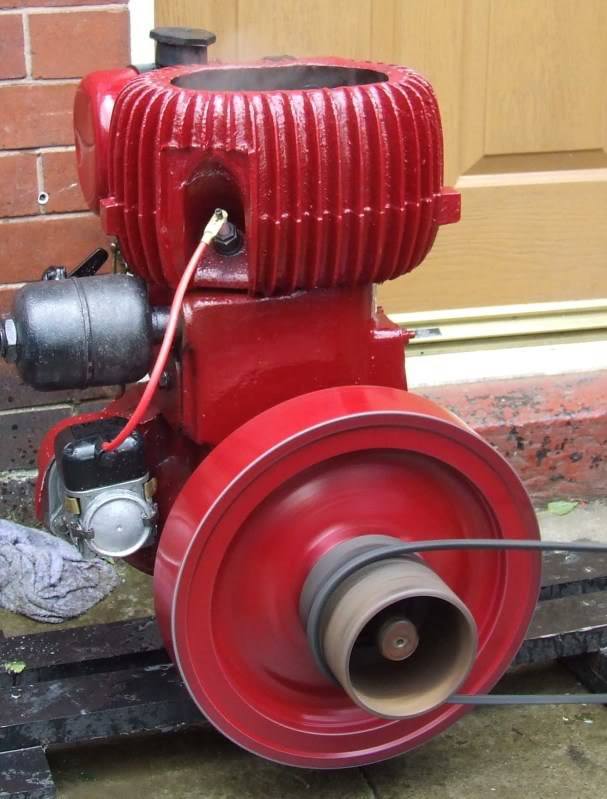 Details to follow
Last edited by Statman on Sat Oct 31 2009, 22:38; edited 2 times in total (Reason for editing : Sorted out the text layout)
Well seeing as though it says "details to follow" I better add some .
The Wolseley WD8 was purchased in 2007 by my wife for my Christmas present but it was not untill march that I could find the time to go and collect it. and another twelve months before I could find the time to go near it with a spanner
It was a runner but it would not run for long and not very well
As you can see it was very dirty and grubby when I got it home .
It was part of a large cement mixer that was scrapped in 1977 and shoved to the back of a builders yard in deepest Cheshire, under a tarpaulin and tons of old roof tiles and dust ( it took me two hours to clear a space big enough to be able to get it out )
After a quick brushing with gunk and a jetwash it looked a lot better and a few clues as to the originall colour were evident
It had been painted black in the late sixties by the guy who we got it from but the originall colour as you can see was green .
Once the muck was washed off and I could clearly see the spec plate
a quick look at the Wolseley dating guide then gave me a date of 1950 It is allso a reverse rotation WD8 and according to Kenny Williams there were not many made so that makes it a little bit rarer .
After fitting two new valves and re grinding the valve seats it was time for a bit of paint
As you can see in the picture I was allso mid way through the rebuilding and painting of my Daughters moped
Burgandy was Christines choice of colour so the WD was pushed onto the garden on a very sunny day and given a couple of coats of paint sprayed on
t looks like red in the pictures but in real view it is a bit darker
It was not untill June 2009 that it had its first outing I hadnt by then made a trolley for it to go on ( Woodwork is not my strong point ) so a quick twenty minutes with a piece of dead tree and some horrible wheels was in order the day before the first rally
I have since then mounted it on a four wheel trolley and shown it at many rallys including the 1000 engine rally this year
A better trolley is in the pipeline and I am allso starting ( hopefully this winter ) the restoration of an old Manchester hacksaw that will be matched up with the WD for shows
Steve

Avandriver

Expert





Posts

: 55


Join date

: 2009-09-12



wolseleys are lovely engines, i may try and get a WD to add to my collection over time, does the colour have a name to it, and do you spray paint or brush, thanks

The Paint is from Sandtex and it is called classic burgandy
I used the High performance paint and it was about £12 per litre from my local diy shop

http://www.sandtex.co.uk/planning/gloss.html



http://www.sandtex.co.uk/pdfs/GlossPaintColour.pdf

When I do top coats I allways spray paint , thinning the paint with ordinary white spirit to the consistency of double cream .
The only downside with thinning the paint with White spirit is it tends to lighten the colour of the finished paint .


I am planning on writing a tutorial on spray painting and when I have done it I will post it on Both forums



Steve

Avandriver

Expert





Posts

: 55


Join date

: 2009-09-12




Similar topics
---
Permissions in this forum:
You
cannot
reply to topics in this forum