Brought home a couple of new additions today, A 1950 Lister D along with a Lister Pump, the engine which is petrol/paraffin spent all its life on a farm in South Wales driving milking equipment until electricity arrived. The pump comes from the house next door to the farm & was used for their domestic water.
The owner of the pump bought the engine from the farmer with the intention of putting them on a trolley & showing them. He then restored both engine & pump built a steerable trolley which he then mounted onto the wheels of his chicken shed, at this point he lost interest & put it all in his barn
I don't want to put the pump onto the same trolley as I would like to be able to use it with the another engine now and again, I also have a problem with the size of the trolley it's 52 inches long & 31 inches wide which is too wide to fit through my back gate & my shed door, I'm considering reducing the length by 18 inches & narrowing it to 28 inches.
The good news is I cleaned the plug tightened a few nuts on the fuel line & she ran well at first attempt.
Hope you like the pics.
Cheers Tony.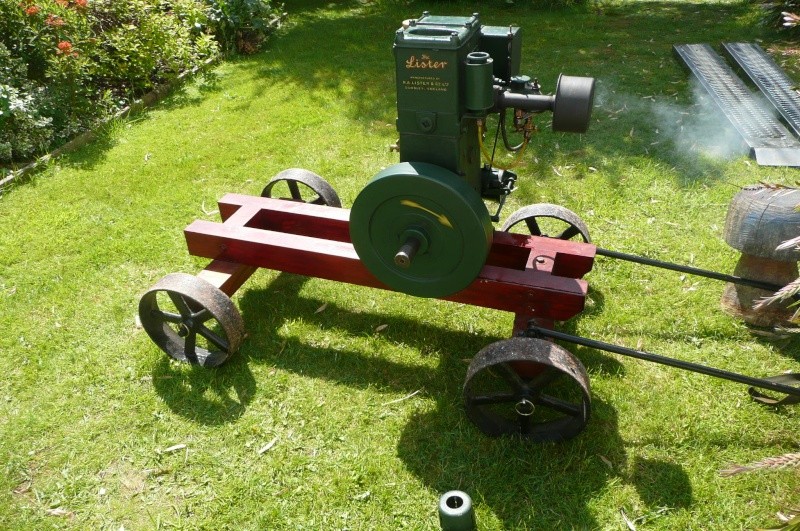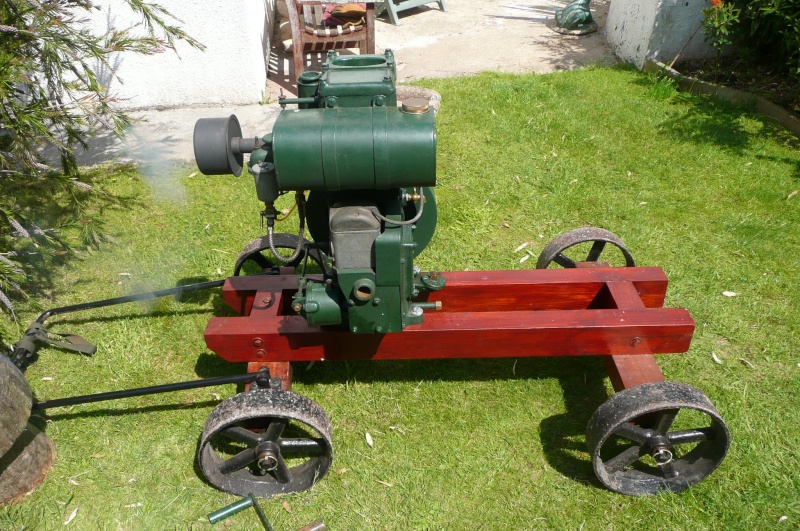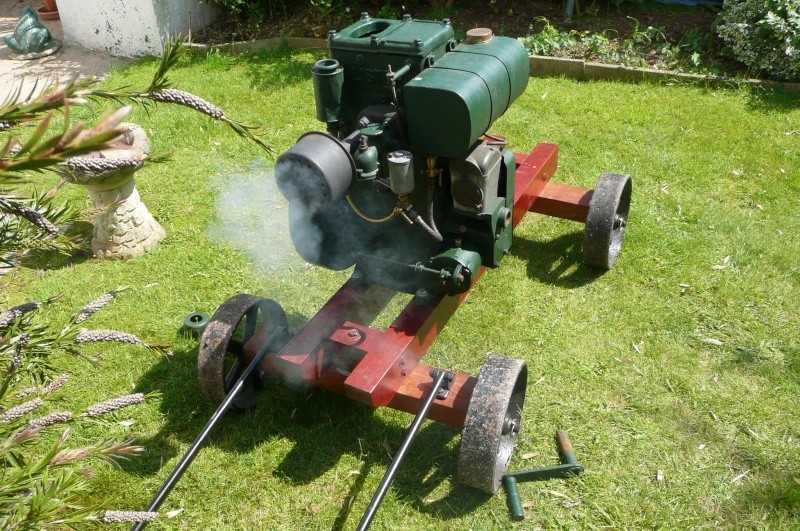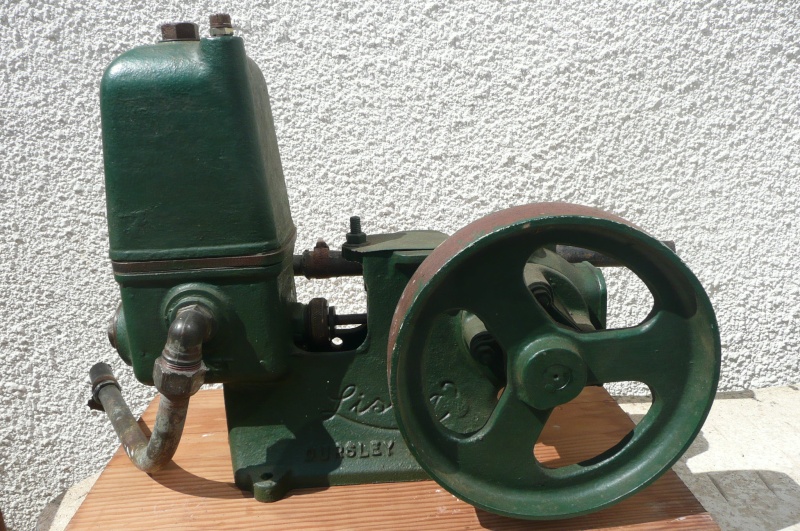 _________________
Douglas SV54 Wolseley WD8 Villiers MK12 Villiers MK25 Lister D Type Lister Pump

Tony C

Expert





Posts

: 67


Join date

: 2010-10-30


Age

: 76


Location

: Torbay South Devon



hi tony..
thanks for sharing the pics of your new acquisition
looks like a little cracker..
keep us posted on the progress of the engine...
regards..mike..

_________________
NOT HERE FOR A LONG TIME, JUST HERE FOR A GOOD TIME
SEEMS TO BE WORKING...

mike d

Life Member





Posts

: 7588


Join date

: 2009-08-26


Age

: 56


Location

: DORSET..BORN AND BRED AND PROUD OF IT.



Well done very nice, yes trolley is a bit excessive if your not going to have the pump on there,
Ian

_________________
Nelson Jumbo 1 3/4hp ,Petter M 3hp appletop, 1940 LISTER D with sheep shearing, 1951 Lister D reverse rotation, H1 H2 H3 pumps, Climax no2 pump,

ian webb

Life Member





Posts

: 657


Join date

: 2009-08-27


Age

: 52


Location

: christchurch dorset



looks a good one to me too mate
nice little d for you there
your trolley plans sound good also
keep it up mate
wait for the pics of your finished trolley project
kev
_________________

" IF YOU DONT DO ANYTHING " "" YOU'LL NEVER MAKES MISTAKES ""


kevjhnsn

Life Member





Posts

: 3596


Join date

: 2011-02-10


Age

: 39


Location

: south cheshire



Looks good to me thanks for posting photos
Jonesey

JONESEY

Admin




Posts

: 2849


Join date

: 2009-07-21


Age

: 55


Location

: Verwood, Dorset



Great find, yes the trolley could do with shortening that should keep you busy.

Stu.
_________________
Engines are just like Pringles .... one is never enough.  

 I used to love tractors all I would ever think/talk about. Then one day out of the blue I went on to statinary engines, So you could say I'm an extractor fan.


stationary stu

Life Member





Posts

: 8962


Join date

: 2009-07-21


Age

: 60


Location

: Stanley, Co. Durham.




---
Permissions in this forum:
You
cannot
reply to topics in this forum